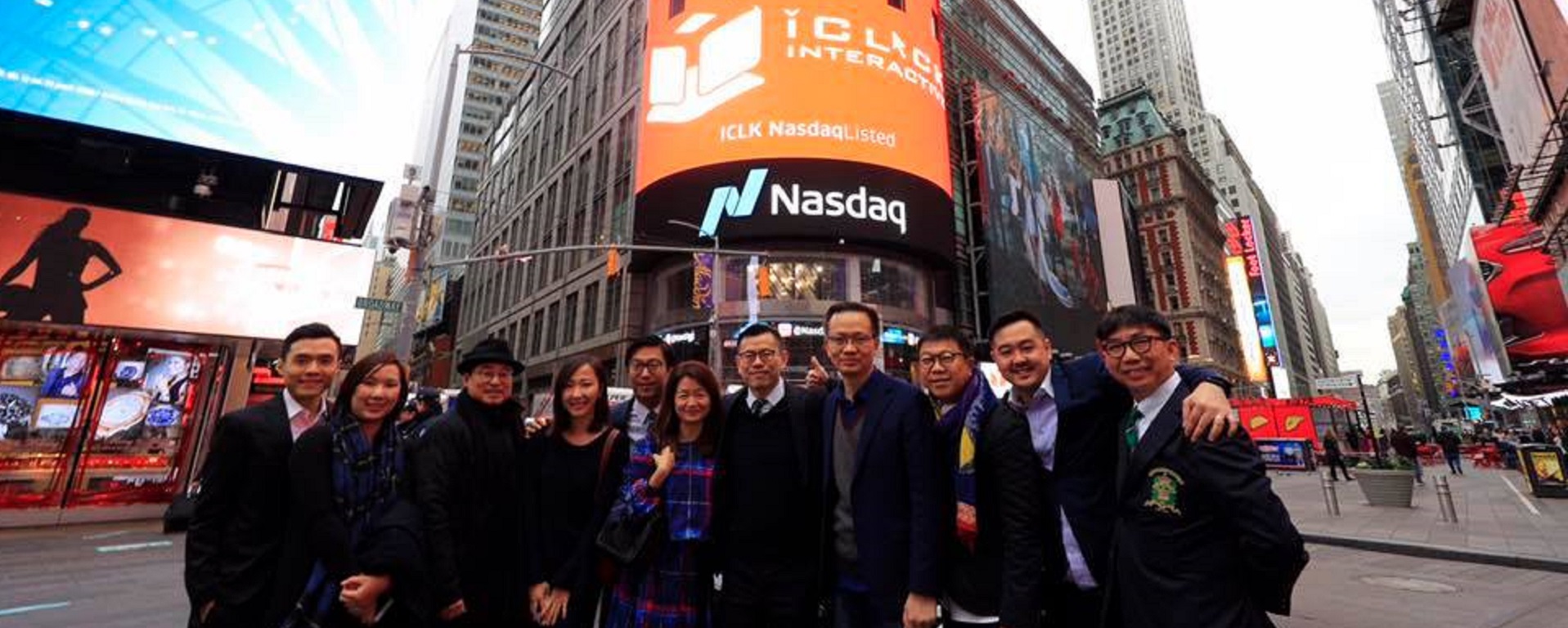 We're officially listed on NASDAQ!
Today is a historic moment for iClick Interactive (NASDAQ: ICLK).
At 9am EST, December 22, 2017, iClick Interactive was officially listed on NASDAQ under the ticker symbol ICLK.
In the past nine years, we are happy to see the company growing from a team of a few people to a tribe of 400+ folks spreading across eight locations worldwide, changing the way brands and businesses from around the world reach their target audiences in China, with increased precision, efficiency and effectiveness.
Today, our belief is as strong as ever – that data and technology will become the future of every business, not only marketing, but across all aspects of business.
Going public is one of the most important milestones in our history, yet it is not our goal.  Rather, it is a crucial strategic move to fuel our growing vision and mission.  It lays a solid foundation for our evolving roadmap for the company's future.
A big thank-you to all stakeholding parties again for making our vision a reality.  We look forward to delivering better and better solutions for our clients and business partners, and to keep making great things happen in the Chinese digital marketing industry.
As Christmas soon approaches, may we also take this opportunity to wish everyone a merry Christmas and a New Year filled with joy, peace and prosperity.
Let's kick off the year of 2018 with a bang!
Sammy Hsieh, CEO & Co-founder
Words From Our CEO
iClick HK wins Gold at Marketing Magazine's AOTY Awards 2021!
We are extremely thrilled to announce that iClick HK took home an impressive five awards at Marketing Magazine's Agency of the Year Awards 2021. The award is highly recognised as Hong Kong's premier awards programme to measure, reward and recognise the industry's top-performing agencies. We scooped a Gold and a Local Hero Award respectively in the first-ever "MarTech Agency of the Year" category, which iClick was recognized as the best Martech company to develop, deploy and refine an integrated MarTech stack for their clients. This year iClick was also the recipient of three Silver Awards for Independent Agency of the Year, Digital Agency of the Year and B2B Agency of the Year. Our focus on providing the best full suite of data-driven solutions for global brands has helped us build our growth momentum, increase our customer base, and strengthen our brand across the region. We would like to thank all of our stakeholders, partners, clients and iClickers for their support, recognizing our ongoing commitment to supporting the industry in this challenging time by providing the best products and solutions for worldwide brands.