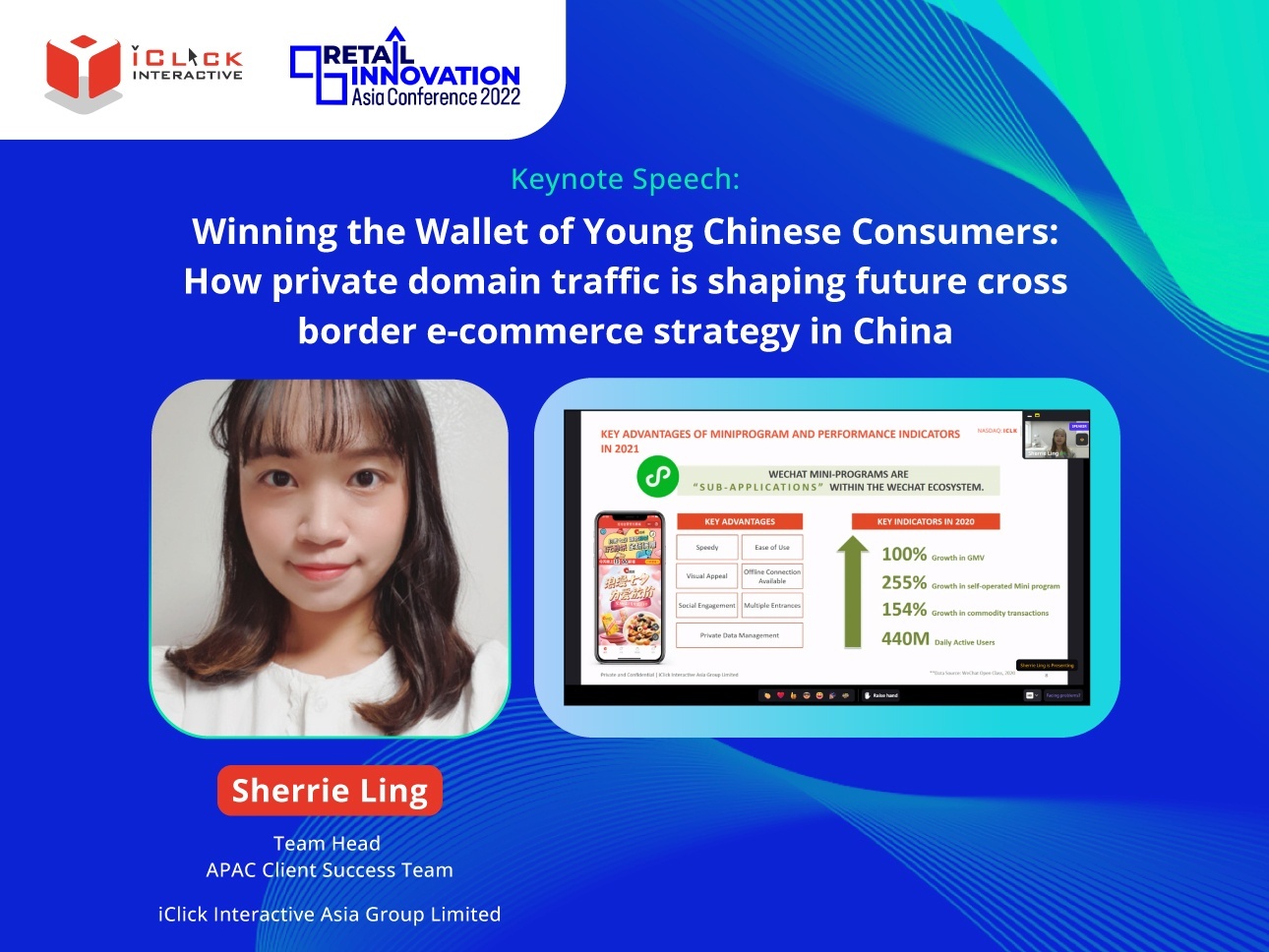 [Retail Innovations Asia Conference 2022] How Private Domain Traffic is Shaping future Cross-border E-Commerce Strategy in China?
Retail Innovations Asia Conference 2022, organised by Escom, is designed for business leaders to discover the trends that will dominate retail innovation in 2022 and beyond. We are honoured to be invited to deliver a keynote speech, featuring Sherrie Ling, Team Lead of iClick's APAC Client Success Team, to share how WeChat's mini-program is fuelling a new generation of cross-border e-commerce growth in China with its private domain traffic management capabilities.
Key Takeaways:
-The WeChat mini-program has taken Chinese e-commerce industry by storm, achieving 450 million daily active users in 2022
-The biggest advantage of WeChat mini-program is the control brands have over their data
-WeChat mini-program enables brands to manage owned private domain traffic and draw actionable insights for sustainable sales growth
iClick's Clinched the "Market Leadership in Digital Technology" Award at HKIM Market Leadership Award 2021!
iClick won the "Market Leadership in Digital Technology" Award at the sixth "Market Leadership Award 2021" organized by Hong Kong Institute of Marketing (HKIM), a prestigious award that honors remarkable business enterprises and individuals for their leading market contribution to China and Hong Kong society as a whole. The award has acknowledged the success of iClick in developing industry-leading digital technology to offer the best full suite of marketing and enterprise data solutions for global enterprises to accelerate their expansion of e-commerce and digital transformation in today's tech-savvy world. Big congrats to our team!