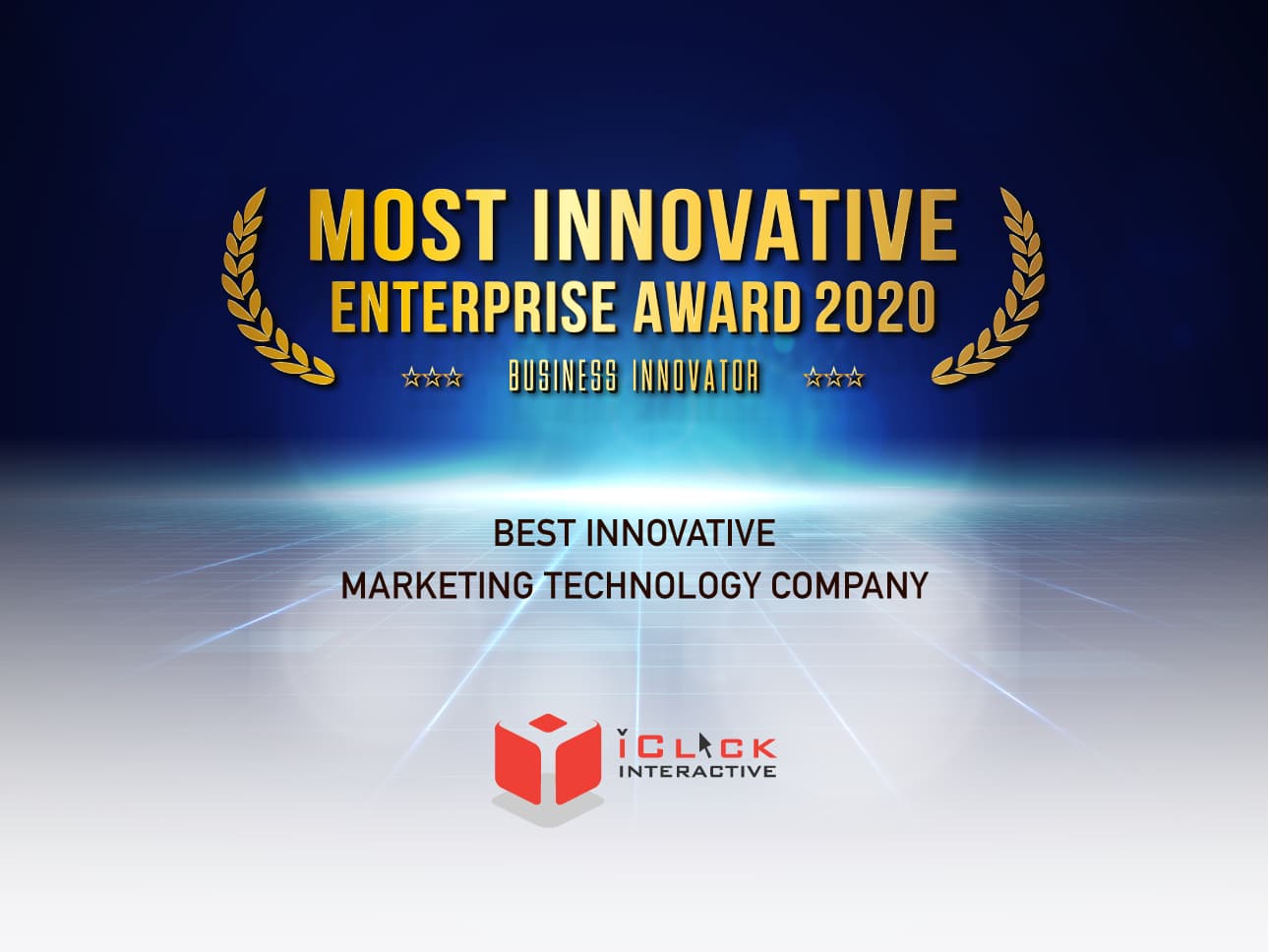 iClick wins "Best Innovative Marketing Technology Company" award at Most Innovative Enterprise Award 2020
We are honored to announce that iClick has been crowned "Best Innovative Marketing Technology Company" at Most Innovative Enterprise Award 2020. Organized by Business Innovator, the Award recognizes the most innovative companies that have made outstanding contributions in the industry. We owe our success to the initiatives of developing the best full-stack solutions for global marketers leveraging our proprietary platforms including iAudience, iAccess, iActivate and iNsights. Leveraging massive and precise Chinese audience data and advanced AI technology, we aim to empower and inspire global marketers to expand their digital footprint into China.
We will continue to rock the digital arena with new and innovative digital marketing and enterprise solutions in the coming year. Our recent launch of Cross-Border Smart Retail Solution – iSmartGo is one of our featured solutions this year to enable international brands to access the enormous purchasing power in China.
We have always devoted ourselves to helping brands gain a better and deeper understanding of markets in real-time and to create the best marketing strategies driven by data and advanced algorithms.
Click here to watch our winning story now (Conducted in Cantonese only): https://bit.ly/3o13JOk
Read more on Business Innovator: https://bit.ly/3bg29TM
iClick HK wins Gold at Marketing Magazine's AOTY Awards 2021!
We are extremely thrilled to announce that iClick HK took home an impressive five awards at Marketing Magazine's Agency of the Year Awards 2021. The award is highly recognised as Hong Kong's premier awards programme to measure, reward and recognise the industry's top-performing agencies. We scooped a Gold and a Local Hero Award respectively in the first-ever "MarTech Agency of the Year" category, which iClick was recognized as the best Martech company to develop, deploy and refine an integrated MarTech stack for their clients. This year iClick was also the recipient of three Silver Awards for Independent Agency of the Year, Digital Agency of the Year and B2B Agency of the Year. Our focus on providing the best full suite of data-driven solutions for global brands has helped us build our growth momentum, increase our customer base, and strengthen our brand across the region. We would like to thank all of our stakeholders, partners, clients and iClickers for their support, recognizing our ongoing commitment to supporting the industry in this challenging time by providing the best products and solutions for worldwide brands.