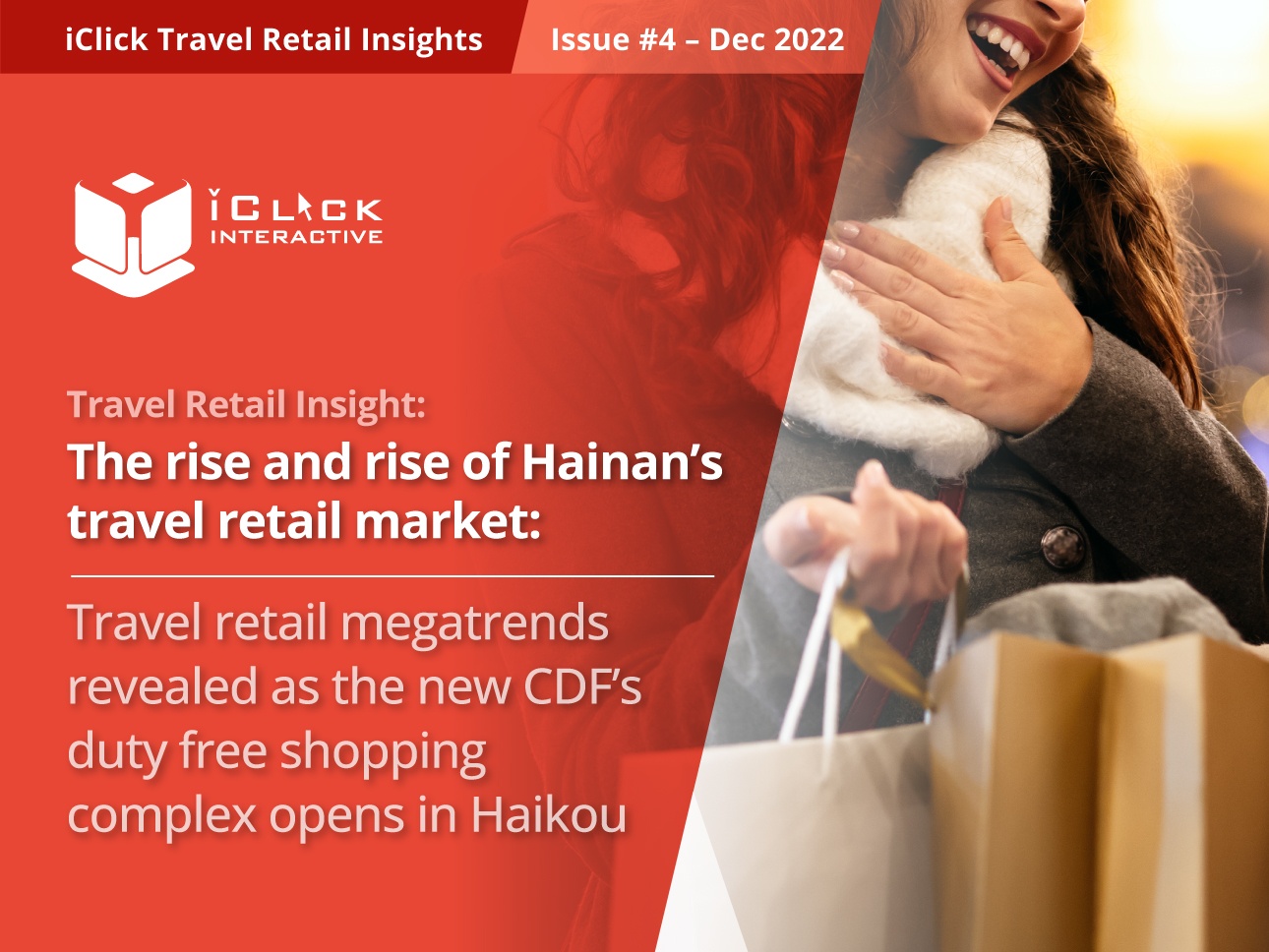 iClick Travel Retail Insights - Issue #4 The Rise and Rise of Hainan's Travel Retail Market
Hainan's duty free retailers have fully resumed business since September after a COVID-enforced 47-day closure just in time to welcome visitors for Golden Week celebrations and the grand opening of China Duty Free Group's Haikou International Duty Free Shopping Complex and its 280,000 sqm duty free zone i.e. CDF Haikou International Duty Free City, which is dubbed as the world's largest single duty free store. The spectacular Complex is leading the development of the travel retail industry in China and the world, reflecting the following 3 key trends: retail excellence, cultural tourism, and loyalty innovation.
With China's new COVID rules in place, we believe that we've got more good news about China's travel market to share in our next issue. Stay tuned!
Download the full article now.
iSuite Insights Spotlight – Issue #4 Explore the Latest Trends in Chinese Online Food Delivery Through iAudience
The world 'how people eat' is changing dramatically, and the demand for food delivery is booming with a growth rate that has been over 20% over the last five years, more than tripled since 2017. The market size has grown nearly 40-fold and has reached 811.7 billion yuan in 2021. According to Expert Market Research, China's online food delivery market is projected to grow at a CAGR of 112% between 2022-2027. The online food delivery market is highly competitive in China, the giant online food delivery platform – Meituan and ele.me taking around 95 percent of China's online food delivery market.Online food delivery in China was growing rapidly before the pandemic and even faster during the pandemic. The online food delivery platforms offer great convenience and efficiency to consumers with the ability to quickly order meals or groceries in just a few clicks. According to Statista, the China online food delivery market is forecasted to reach 941.71 billion RMB in 2022, making China the largest online food delivery market in the world.Based on iAudience data, we have traced and profiled Chinese netizens who browsed the online food delivery platforms, highlighting their audience profiles, preferences and online behavior to help marketers better understand the trend and insights in the Chinese online food delivery market.Check out our fourth issue of "iSuite Insights Spotlight – Online Food Delivery in the Spotlight", leveraging iAudience's latest Chinese netizens data to understand the profiles, demographics, and psychographic dimensions of audiences interested in ordering food through online delivery platforms.