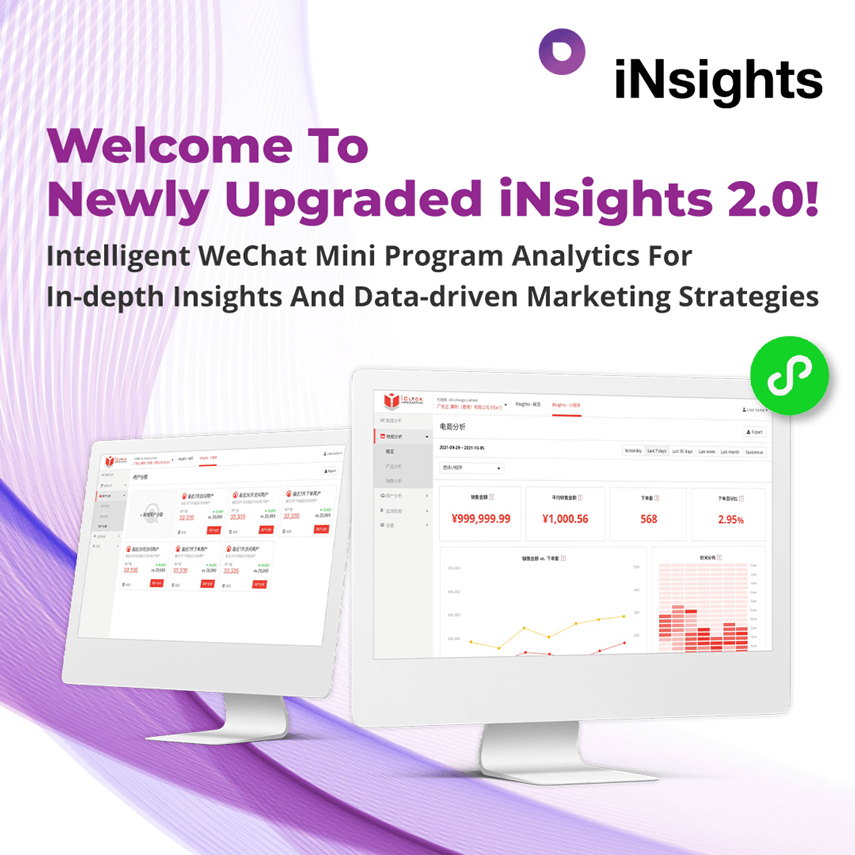 iClick Releases iNsights 2.0 to Extend Intelligent Data Analytics Coverage to Popular WeChat Mini Program Ecosystem
We are proud to announce the release of iNsights 2.0, a powerful upgrade to iClick's iSuite platform for intelligent data analytics.
With iNsights 2.0, global brands are now able to gain unparalleled insights into the enormously popular WeChat mini program ecosystem, enabling more effective data-driven marketing and smarter business decisions. Through its new WeChat mini program analytics modules, iNsights 2.0 takes marketing technology solutions for the China market to the next level with three main functionalities:
Full-funnel analytics
iNsights 2.0 provides all-round insights on traffic, user behavior, ecommerce, and the conversion funnel to measure campaign performance. The upgraded solution analyzes comprehensive traffic breakdown across multiple platforms, helping brands to focus on key business goals and lowering the cost of conversion by identifying bottlenecks throughout the user conversion funnel. iNsights 2.0 also enables brands to closely monitor e-commerce platforms and measure business growth, while generating data driven-insights to power product development and marketing promotion strategies.
Customized for client analytical needs
iNsights 2.0's simple-to-use tracking functions help brands create and track events and provide custom analysis for specific metrics to generate insights on campaign performance, such as most-clicked banners or most-engaged with gaming campaign. The platform can also provide customized traffic source tracking paths, as well as custom QR codes for both online and offline campaigns and tailored segmentation capabilities for re-marketing campaigns.
One-stop MarTech solution
Combined with iSuite products including iAccess, iNsights 2.0 forms a one-stop MarTech solution that optimizes cross-channel marketing campaigns and transforms data into actionable insights based on analytics, allowing brands to adopt precise remarketing strategies and retarget high-value customers with one-stop MarTech features including ad placement, ad tracking analytics and remarketing. By providing clients with deep, actionable insights into the rapidly growing WeChat mini program ecosystem, iNsights 2.0 represents a powerful enhancement of iClick's leading end-to-end iSuite MarTech platform helping brands select the right marketing mix to efficiently reach Chinese audiences, while providing insights that help drive sales growth and enhance advertising ROI.
iClick's Clinched the "Market Leadership in Digital Technology" Award at HKIM Market Leadership Award 2021!
iClick won the "Market Leadership in Digital Technology" Award at the sixth "Market Leadership Award 2021" organized by Hong Kong Institute of Marketing (HKIM), a prestigious award that honors remarkable business enterprises and individuals for their leading market contribution to China and Hong Kong society as a whole. The award has acknowledged the success of iClick in developing industry-leading digital technology to offer the best full suite of marketing and enterprise data solutions for global enterprises to accelerate their expansion of e-commerce and digital transformation in today's tech-savvy world. Big congrats to our team!