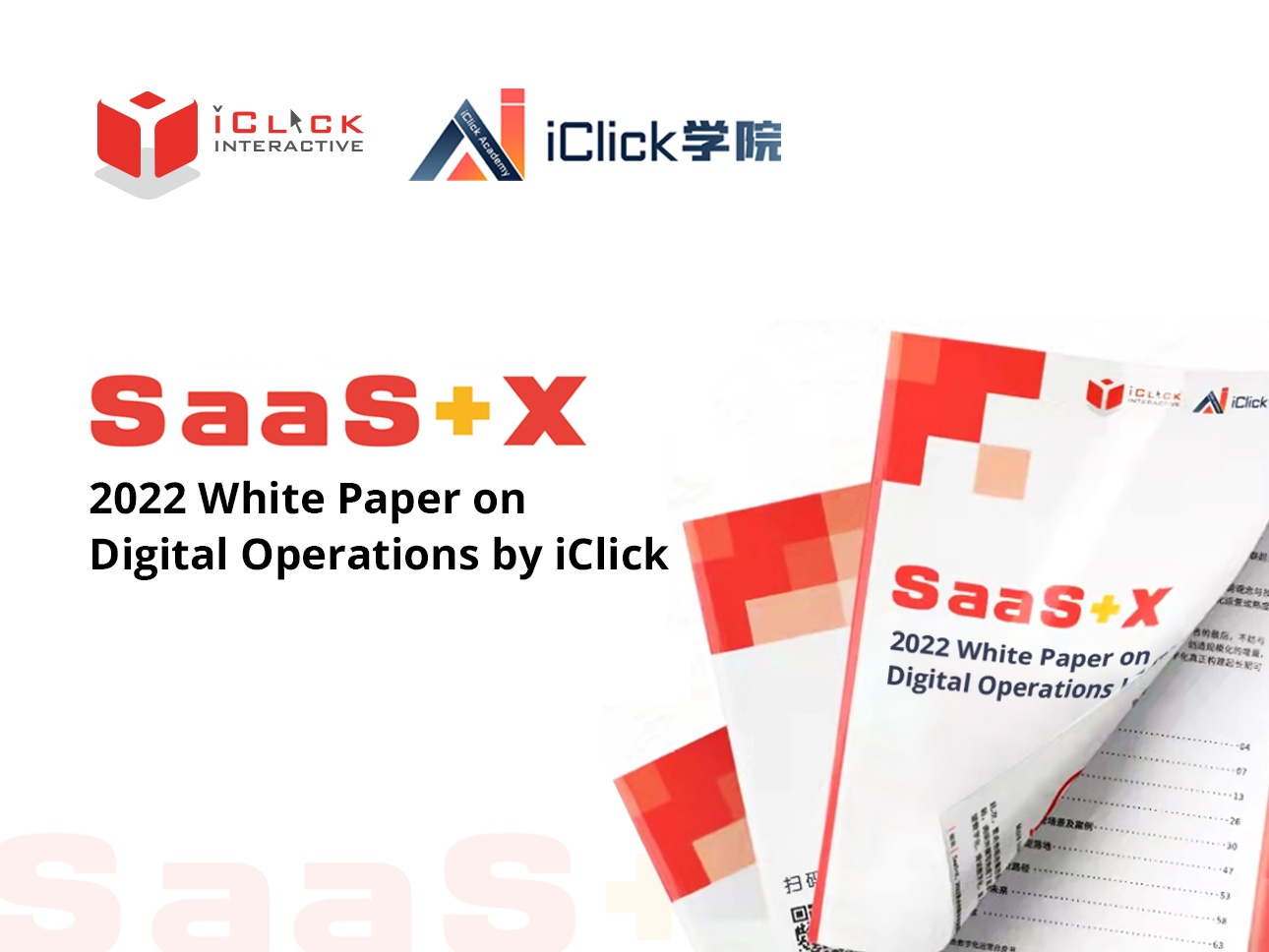 iClick Interactive Releases "SaaS+X 2022 White Paper on Digital Operations"
We are thrilled to release our "SaaS+X 2022 White Paper on Digital Operations". Combining our in-depth understanding of China's digital landscape and abundant experience working with more than 1,000 leading brands to power sales growth. The white paper is an authoritative resource for companies looking to take their marketing and business development in China to the next level.
Jian Tang, Chairman, Chief Executive Officer and Co-Founder of iClick said, "Our long-term strategy is to seize the opportunity of the digital transformation of China's economy and help companies achieve supply-side innovations through digital upgrades while seeking new paths for business growth. This white paper combines the theoretical research results and operation methodology that we have developed over the past years since we launched our comprehensive digital transformation strategy in 2019."
"In the paper we introduce a methodology for implementing digital operation concepts and applying them to all aspects of organization and team collaboration. We have developed a set of enterprise digital operation maturity models that can be used for 'self-inspection' and provide feasible development suggestions and guidance for enterprises in each development stage."
iSuite Insights Spotlight – Issue #5 Tapping into the Emerging Trend of Chinese Metaverse Fashion Through iAudience
In recent years, Metaverse became one of the buzzwords, a concept linked with technologies such as augmented reality (AR), virtual reality (VR), artificial intelligence (AI), and the Internet of Things (IoT) and has elevated buzz in countries such as China. According to iiMedia Research, a survey conducted in 2021 among Chinese netizens, over 70 percent of respondents stated that they had a sufficient understanding of metaverse, the most popular applications were game IP avatars, followed by personal and community virtual spaces.Riding on the growing popularity of the metaverse, fashion brands can now interact with consumers in more diversified touchpoints, bringing new virtual shopping experiences to the industry. According to China Metaverse Investment and Financing Data Report, China's metaverse industry has received at least USD 780 million investment in 2022. With the emergence of the metaverse, Chinese fashion brands can engage their customers more digitally and creatively.