To Embrace Next – iClick CEO Sammy Hsieh looks back on his company's 10-year history and reveals future plans
To Embrace Next – iClick CEO Sammy Hsieh looks back on his company's 10-year history and reveals future plans
Marketing technology company iClick has now been around for a decade and has led the way in digital marketing in China – here the CEO Sammy Hsieh talks about the journey to going public, and reveals future plans on scaling digital innovation.
From 2009 to 2019, iClick has been through a journey of milestone developments. The birth of the company, continuous product evolution, investments and mergers and acquisitions – not to mention conglomeration, the setting up of 10 branch offices around the globe to support business expansion, four rounds of fundraising and the listing on Nasdaq.
These developments and changes, while typical for any successful enterprise, owe to the commitment and hard work of iClickers.
So 2019 marks the 10th anniversary of iClick. To commemorate this landmark moment, we have had a heart-to-heart talk with iClick's co-founder and CEO Sammy Hsieh to uncover some living stories along the growth of iClick, as well as how he views and feels about the company's path to success and its future.
Believe in the power of technology and data
Before establishing iClick, Hsieh had worked at a number of technology giants. From 2000 to 2008, he was director of search marketing at Yahoo! Hong Kong, responsible for sales, marketing and business development of the company.
After Yahoo! Hong Kong, he joined Efficient Frontier (acquired by Adobe) as general manager for the Asia-Pacific region. That was when he brought the world's first advertising optimisation technology to Asia.
In 2009, he co-founded iClick with a mission to redefine the digital marketplace with data, technology and innovation. Born in Hong Kong and educated overseas, Hsieh demonstrates his acute understanding of the market, broad and deep knowledge of how to utilise technology and information for goal achievement; and a dedication to breakthroughs in advertising and marketing.
Great influences and big thoughts arise unnoticed – journeys start without a trace
Back in 2009, mobile phones were the norm and the market was dominated by brands like Nokia, Motorola, Samsung and LG. We used Weibo for reading novels with our 2G or 3G phones. Taobao.com rolled out its first Double Eleven Shopping Festival. In the same year, iClick was born; Hsieh was aged just 37-years-old.
In the early stages of its establishment, iClick chose to be engaged in the emerging mainstream at that time – which was portal-oriented advertising and marketing.
That was a time overshadowed by the 2008 global financial crisis. Most enterprises responded by implementing cost controls, as yielding maximum results from every marketing dollar spent was critical. Unsurprisingly, online media, with its apparent cost-effective advantages, was highly attractive to advertisers.
And so iClick registered rapid development in the China market against this backdrop; setting up offices in Beijing, Shanghai, Shenzhen and Guangzhou – together with a data mining and algorithm technology team specialised in internet marketing applications. The company capitalised on the opportunities to develop overseas markets by continuously strengthening its marketing technology capabilities.
In the meantime, advertising in the media environment was experiencing many different changes in traffic – from portals and search engines to wireless terminals and in-app platforms. Somehow iClick always stayed in tune with market changes and trends. It adjusted its business structure in a timely fashion, and therefore the company attained rosy developments.
Hsieh says before he co-founded the company, his Internet experience was mostly related to helping Yahoo! To promote internal innovation. According to him, things were a lot different running his own company.
First, he no longer had strong back-end and resource support. He himself and the start-up team were responsible for resolving issues that arose. And compared with being an employed manager, he had to adopt the thinking mode of a more macro sense of direction. Nowadays, he emphasizes that help may not be available on one's road to entrepreneurship and that one has to be prepared to iron out obstacles alone.
Going public on Nasdaq, a milestone
Going public is the ultimate goal of many start-ups, especially those in the technology sector. Becoming a listed company means enhanced publicity, which will enable it to access more financing channels and broader development prospects. Following a wave of foreign companies seeking IPOs in the United States – on December 22, 2017, iClick debuted on the Nasdaq, as a leading independent online marketing technology platform with the stock code 'ICLK'
Hsieh shows pride in the Nasdaq listing, an engraved moment in iClick's development. Yet, his views are clear and calm. He thinks going public is not the ultimate objective of companies but a milestone at some stage that signifies the start of a new phase and new challenges.
iClick began trading on the Nasdaq in its 8th year after founding. In fact, eight years was the average length of time for Chinese companies go from establishment to IPO in recent years. To take the company public, iClick spent a long period readying itself, in which it had to overcome lots of difficulties. As mentioned earlier, running one's own business is challenging; there is no one there to tell the entrepreneur what to do next. Under the leadership of Hsieh, iClick cleared the hurdles one by one by itself as it moved forward to success.
To Embrace Next – Strategy upgrades leave no break time 
In the second half of 2018, iClick officially unveiled a new round of strategy upgrades towards the new positioning of 'online marketing and enterprise solution provider'. In addition, the company's organisational structure was strengthened, by which a new smart retail division and a new innovation institute were launched riding on the original advertising and marketing business. Hsieh is convinced that this round of strategy upgrades is more important as well as has more far-reaching effects than any previous reform.
iClick has accumulated 10 years of valuable experience in advertising and marketing, its principal business. Because the company directly interacts with clients, it has first-hand understanding of their marketing needs. The industry is advancing fast. Customers today not only want to advertise, but also to continuously integrate and optimise their own data.
Therefore, iClick's smart retail division is the client's partner in advertising and marketing; it will further help them build the middle platform for data analysis and integration, in order that they can use data effectively to maximise return on investment. To stay ahead of the competition amid rapid industry growth, iClick rolled out its innovation institute – which aims to accelerate the company's development by analysing the latest trends in the market as well as identifying and cultivating new projects for investment.
Hsieh insists that iClick has emerged stronger from each transformation. On the other hand, his thinking has not changed much from 10 years ago. He has to work long hours. He takes business trips like a nomad. Yet he is as passionate as always about the industry and new ideas. With high expectations for the industry, he believes iClick will be able to use information and advanced technologies to reform the ecology of many sectors.
"If I could go back in time and say something to myself about the past 10 years, I would say I have never regretted starting my own business," he adds.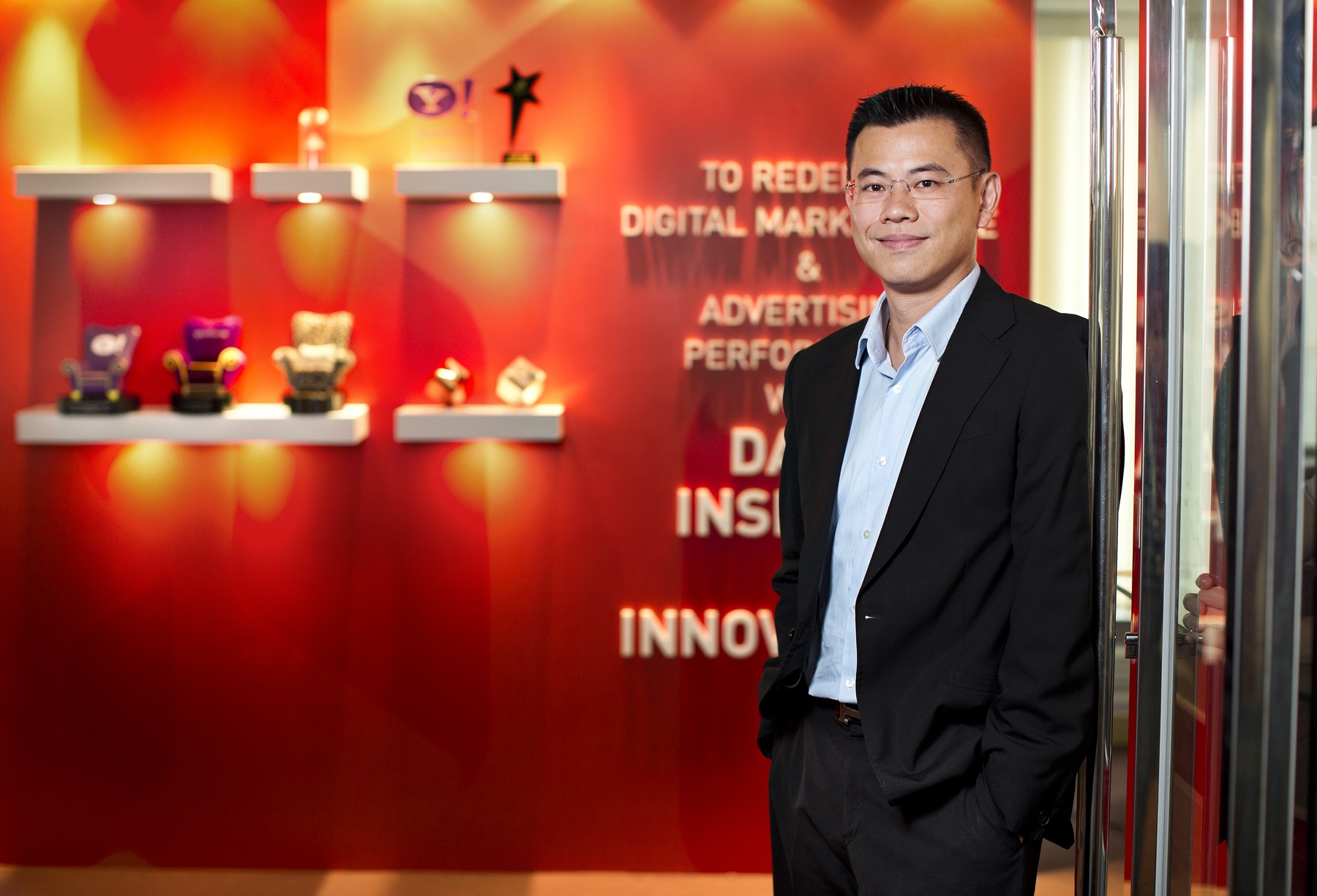 Embracing Agility: Frankie Ho Explains How Enterprises Should Adapt in Today's Digital Transformation Era
Frankie Ho, our President of International Business, was recently interviewed in a finance program — "Invest Smarter" @ ViuTV (Channel 99) in Hong Kong, sharing his thoughts around the digital marketing trends and innovation in marketing based on the evolution of technology. Given the turbulence and paradigm shift in consumer behaviour amid the pandemic, the world of digital continues to experience a multitude of changes. Frankie further discussed how iClick transformed our product portfolio in helping enterprises to identify new business opportunities across the consumer lifecycle.